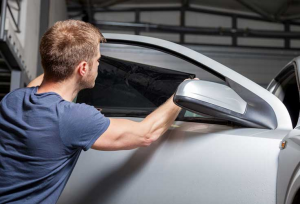 Do you want to reduce heat and glare inside your home or vehicle? Or improve safety and security to create a more private environment in your workspace? If yes, investing in window tinting films can be the best solution. For car window tinting in Clayton, you can trust Fresh Window Tinting. Having been in the industry for many years, we offer the most reliable yet cost-effective tinting solutions to our customers in Clayton.
Our Range Of Window Tinting Services Includes:
Automotive Window Tinting Clayton:
Whether you want added protection for your car or want to increase its look and value, we can help. Our experts do a great job by creating a more pleasant environment that makes your ride a comfortable one. Our window films are designed to protect you, your family and your car's interior from the dangerous effects of UV-rays. It also prevents the glass from shattering in case of accidents and makes driving a more enjoyable experience.
Residential & Commercial Window Tinting Clayton:
One of the biggest problems with light streaming into your home is that it can cause extensive damages to your furnishing. With our home window tinting films, you can not only protect your belongings from sun exposure, but also reduce the glare off your TV screens, block heat and ensure the privacy of your family.
When it comes to commercial window tint installations, we provide a level of service that is second to none. Our car window tinting specialists can also work outside of office hours to ensure that there is no disruption to your business activities.
Why Choose Us?
All of our tinting specialists are well-trained.
The materials we use are of high-quality.
You will get the best value for your money.
We ensure 100% satisfaction.
Impressive level of attention is given to all tinting projects.
Call 0434 272 547 and get in touch with us today to find out what we can do for you!