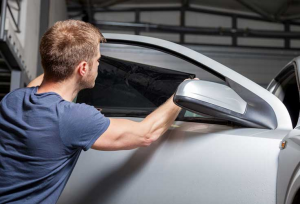 If you are looking for a professional window tinting specialist in Wheelers Hill, you have come to the right place. As a leading car window tinting company in Melbourne, we offer first-class window tinting at competitive prices. Our window tinting experts are well-trained and highly-qualified, so you can be rest assured that your vehicle or property will have a flawless finish. Moreover, we only use premium quality tinting films that provide just more than aesthetic benefits.
Our Range Of Window Tinting Services Includes:
Automotive Window Tinting Wheelers Hill:
Whether you drive a hatchback, saloon, coupe or an SUV, we have window tints suitable for your vehicle. From enriching the look of your vehicle and protecting your family from harmful UV rays to increasing your privacy and security, our car window tinting films serve various purposes and are worth investing in them. We have an exclusive range of films available in different shades, ranging from light to dark, so you can choose the one matching your tinting needs.
Residential Window Tinting Wheelers Hill:
Fabrics, furnishing and artwork can get damaged or faded when sunlight streams through untreated windows. Our window tinting films are intended to block more than 99% of all UV rays. Besides protecting your valuables from sunlight, our house window tinting can also prevent your eyes and skin from getting damaged by the UV rays. They also provide solution for a host of problems such as excessive glare, heat build-up and high energy cost, meaning that you can stay comfortable and safe at home.
Commercial Window Tinting Wheelers Hill:
Whether your office windows got damaged or are deteriorating, Fresh Window Tinting provides a smart and cost-effective alternative to replacement when your ultimate goal is to improve energy efficiency of your commercial space. We offer high-quality office window tinting films and affordable installation service that can offer year-round energy savings.
If you are interested in our window tinting service, call 0434 272 547 and schedule an appointment with us today.