One of the fastest and easiest ways to upgrade your vehicle's appearance is through car window tinting. If you have planned to hire a car window tinting service, you must know the steps involved in it. The process involves dusting and wiping the car windows and applying a transparent film on the window. The window film layer helps keep the heat from entering the vehicle and prevents the windows from fading. 
Dusting
Vehicle windows are prone to collect dust and dirt. Before attaching the film layer onto the window, windows are thoroughly dusted and wiped with a clean microfiber cloth. If a film is applied to dusty or dirty windows, it will produce air bubbles and completely ruin the vehicle's appearance.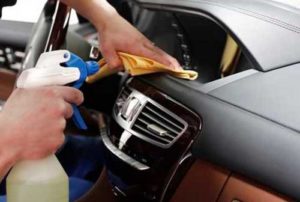 Prepping The Windows
It's more like exterior detailing, professional window tint installers use soapy solution to cleanse the windows and get rid of any bird splatter or debris from the window. Applying the film on the clean surface will help it stick faster. 
Measurements & Cutting
Once the windows are thoroughly cleaned, it must be allowed to dry. Usually, the films are cut in larger sizes than the windows to ensure that the entire window is covered. The extras will be trimmed later by the technician. A heat gun is used to contour the window film so that it curves to the glass. 
Installation
Once the film is cut down to match the window size, the film is removed and kept aside on a peeling board to cut it with precision. A soapy solution is used to spray on the film and on the window itself. Then the liner will be removed, and the film is applied in the interior of the window. Once the film is laid, a squeegee is used to remove the excess solution to make the adhesive that secures the film on to the window. 
Inspection & Drying Time
Then it is finally inspected by the technician to see whether it has any imperfections. Once the inspection is done, it will be allowed to dry for about three to seven days depending on the weather. 
If you're looking to change your vehicle's appearance with a car window film, let our window tinting professionals help you. For more details, call 0434 272 547.