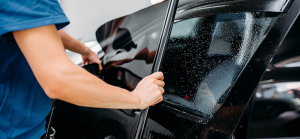 Just like your skin requires sunscreen for protection, your windows need protection from the harmful sun rays and with a professional window tinting from us, you can achieve a whole range of benefits. Whether you require window tinting for your car or for your house windows, or a commercial outlet, we offer the high-quality window tints that offer intense protection by blocking the harmful radiations. With a professional window tinting service from us, you can get the complete ultraviolet protection, reduced heat transmission, increased exterior & interior comfort, glare-free lighting and additional safety and privacy.
We Specialise In:
Automotive & Car Window Tinting Bayswater
Our car window tinting provides UV protection, reduces heat in your vehicle, has a massive style and adds extra security. Also, with our car windows tints comes with intense block protection where it helps your car's interior from fading. Our car window tints are made with premium standards that deliver luxurious look for your car, privacy and comfort for your drive.
Residential Window Tinting Bayswater
Your stay at home has to be comfortable and it's possible with a residential window tinting installed by our experts. Whether your concern is about heat reduction or sunlight glare or privacy, our high-grade window tints can offer that and exceed your expectations. Our window tints create an invisible layer of security to help protect your house from weather, intrusion and impact.
Commercial Window Tinting Bayswater
If you're a super busy commercial facility, then installing your building exteriors and glass windows with a high-grade commercial window tint help in heat rejection and blocks the sun rays. Having your commercial windows tinted by us will reduce the energy usage, improves productivity and upgrades your building exteriors with a professional look.
Over To You
Whether you want to tint your home, office or car in Bayswater, call us on 0434 272 547 today.