Have you considered window tinting for your business? More than the curb appeal, the benefits of window tinting outweighs the cost and makes your daily activities run efficiently. So, commercial buildings should get a commercial window film installed. It may not be your topmost priority, but the benefits are endless. Commercial window films greatly enhance the appearance of the building, and also offer financial and aesthetic benefits. Here in this blog, we help you understand why window tinting for your business is a great idea. 
Improves Comfort & Increases Productivity
Window films keep your employees away from squinting, eye strain, and even mild headaches. It acts as a protective shield on your windows and keeps your office environment away from the scorching sunlight. Commercial window films can prevent harmful rays to fall in and reduce the glare. This, in turn, helps the employees from glare and eye strain, thus increasing the productivity rate. 
Lowers Energy Bills
Commercial window tinting helps lowers the stress of higher utility bills. It's the expense of heating and air. Often businesses overlook this, when choosing their location and the result, they end up paying more. The exposure of heat will have a direct influence on your utility bills. Moreover, by getting a commercial window film, you are saving up on your energy bills. 
Return On Investment
When you invest in commercial window films, you will have a quick payback as it reduces your utility bills. Eventually, you will end up saving up some money, where you can use it for your other priorities. Commercial window tinting greatly helps in reducing utility costs, and you can focus on other important things. 
Increases Appearance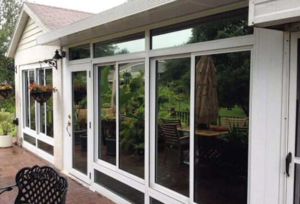 Window films greatly improve the exterior of your building. Making a professional appearance is a must for your business. Commercial window tinting will boost your property value immensely and maintains the interior privacy and leaves the exterior with a sophisticated look. That is why getting a commercial window film is helpful. 
Need us to help you with commercial window tinting? Call the experts from Fresh Window Tinting on 0434 272 547 today.