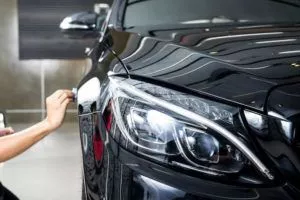 Is your vehicle heating all of a sudden? It is time to get a car window tinting film to protect your vehicle. Window tints block harmful rays from entering your car. At Fresh Window Tinting, our window tints are of high quality and offer a wide range of options. Our window tints are designed for heat rejection, making it a superior choice of comfort for your vehicle. As the leading window tinting service, we have been providing car window tinting films, window frosting and car detailing services across Hallam and its nearby suburbs.
Benefits of Window Tinting Film For Your Vehicle
Increased protection from theft
Enables privacy and security for your valuables
Blocks 99% of harmful UV rays
Gives a natural cooling effect
Reduced glare from the sun
Saves your fuel economy
Protects your vehicle from overheating
As the experts in mobile car window tinting, we can transform your vehicle's outlook into a sleek looking car. Apart from enhancing your vehicle's appearance, we provide long-lasting functional benefits. Over a decade in the car care industry, we are known for our surpassing standards of paint protection services. With our window tinting service, we ensure that all your rides are comfy from the inside. Be it a residential window tinting or commercial window tinting for your vehicle; you can expect only the best service from Fresh Window Tinting. 
What Sets Us Apart?
We provide window tinting solutions for all makes and models.
From passenger vehicles to luxury cars, we provide accurate window tints to enhance your vehicle's outlook.
Our window tinting helps to protect your vehicle's interior and leather upholstery.
Our window films are durable, designed to last and maintenance-free.
Our window tinting provides improved comfort blocking all UV rays from the sun protecting your vehicle.
If you are looking for a window tinting service nearby Hallam, call us at 0434 272 547.
Car Window Tinting service in Melbourne, Frankston, Carrum Downs, Berwick, Narre Warren, Dandenong, Hallam, Springvale, Doveton, Keysborough, & Noble Park Call us now on 0434 272 547.