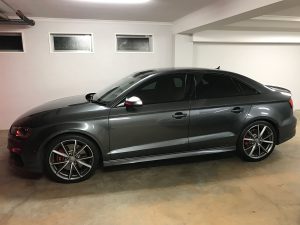 Have you ever thought about window tinting? Many would think it is simply to enhance the car's exterior. However, it serves many different purposes. At Fresh Window Tinting, we understand the importance of window tinting for your car. That's why we offer high-quality mobile window tinting services for vehicles, homes, and commercial properties across Doveton and its nearby suburbs.
Advantages of Car Window Tinting
Window tinting makes your vehicles look sleek and stylish on the road.
When you apply window tinting for your car, you are protecting you and your vehicle form thefts.
It offers chillness around without the need to turn on your AC.
It gives protection from inside out and enables more privacy.
Most importantly, it blocks harmful radiation from the sun entering your car.
It protects your costly leather upholstery from fading.
It reduces the glare and brightness that comes from the opposite oncoming vehicle.
As the market leader in providing high-quality window films; we offer surpassing standards of car window tinting for vehicles, and paint protection films to transform any shabby car. The most important aspect of getting a residential window tinting is, you can block those harmful sunbeams at bay. It also adds an eminence to your property. Apart from enhancing your vehicle's appearance, we provide long-lasting functional benefits that protects your vehicle. If you require a commercial window tinting for your office or building, we provide fast and efficient window tinting flims, window frosting  for your property to look the best.
What Sets Us Apart?
We provide window tinting solutions for all makes and models.
From passenger vehicles to luxury cars, we provide accurate window tints to enhance your vehicle's outlook.
Our window tinting helps to protect your vehicle's interior and leather upholstery.
Our window films are durable, designed to last and maintenance-free.
Our window tinting provides improved comfort blocking all UV rays from the sun protecting your vehicle.
If you are planning to get a car window tinting service across Doveton, get it done right away at Fresh Window Tinting.
Car Window Tinting service in Melbourne, Frankston, Carrum Downs, Berwick, Narre Warren, Dandenong, Hallam, Springvale, Doveton, Keysborough, & Noble Park Call us now on 0434 272 547.